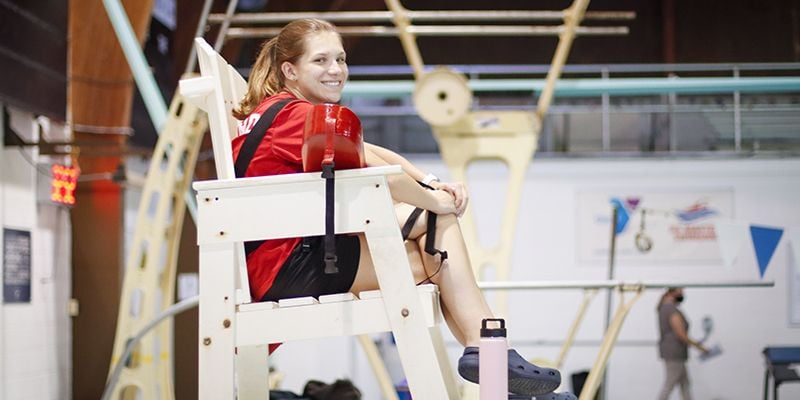 BE A LEADER. SAVE A LIFE.
Lifeguards are an integral part of the Y experience for our members. They ensure members and program participants enjoy a safe, fun aquatic experience and are able to develop the skills and relationships they need to be healthy, confident and connected to others.
You can become part of that.
Greater Somerset County YMCA is an American Red Cross Authorized Provider. Through the course content and training drills, participants gain the knowledge and learn the skills to perform water rescues, and prevent and respond to aquatic emergencies. In doing so, you'll be giving back to your community and learning lifelong lessons in leadership, responsibility and maturity.
Our lifeguard training includes certificates in the following
American Red Cross Lifeguarding

CPR/AED for Professional Rescuer

First Aid
GENERAL COURSE INFORMATION
Minimum 25-hour course, not including required pre-course test (details below).
Some classes are taught as "Blended Learning", allowing participants to complete some classroom portions before the first day of class.
Upon successful completion of the course (see Certification Requirements below), participants will earn an American Red Cross Lifeguard/CPR/AED/First Aid certificate, valid for 2 years.
Prerequisites
Participants unable to complete these skills will not be allowed entry to the class, as per American Red Cross policy:
Must be 15 years old on or before the final scheduled session of the course.
Must be able to swim 300 yards continuously, demonstrating breath control and rhythmic breathing. Participants may swim using freestyle (front crawl), breaststroke, or a combination of both only. Swimming on the back or side is not allowed. Swim goggles may be used.
Tread water for 2 minutes, using only the legs.
Complete the following within 1 minute, 40 seconds (goggles may not be worn):
Starting in the water, swim 20 yards.
Surface dive, feet-first or head-first, to a depth of 7 to 10 feet to retrieve a 10-pound brick. Return to the surface.
Kick swim 20 yards on the back while supporting brick with both hands. Return to the starting point. Exit the water.
Materials Needed
Greater Somerset County YMCA will provide the following items: 1 resuscitation mask, 1 pair latex-free gloves
An American Red Cross Lifeguard Manual is required. Participants may use an e-book format with a laptop or tablet (Wi-Fi available) or print the materials out themselves. A link to the Lifeguard Manual will be provided.
Participants will be expected to bring their own bathing suit, towel, writing/note-taking supplies, and a comfortable change of clothes.
Certification Requirements
Attend 100% of all class sessions in full – there are no makeup classes
Arrive on time for all class sessions
Participate 100% in all class sessions while demonstrating competency in required skills and activities
Demonstrate competency in the three final skill scenarios and correctly answer at least 80 percent of the questions in both sections of the final written exam.
This is a lifesaving course. Participants are expected to take the course seriously and act with a sense of professionalism and urgency for their skills. While our instructors work with each student to set them up for success, this is ultimately a course that some may be unsuccessful in completing.
Successful completion of the course does not guarantee an employment offer, however, the Y has open lifeguard positions year-round.